Let's face it. Everyday life is busy. Juggling kids' schoolwork, parents' workloads and multiple appointments doesn't leave much time to look for lost keys. If you ever had to call your spouse at work to bring home a spare key, you've likely thought about getting smart locks put on your home.
Smart locks come with many benefits for home and business owners. Keep reading to find out the top 10 advantages of making your home security system smarter.
1. Increase Accessibility Without Compromising Security
House keys are often misplaced. To avoid tracking down keys or changing the locks when tenants move out, consider smart locks with keypads. With models such as the TL 115, you can unlock the door with your smartphone using Bluetooth technology. You can also assign your children their own passcodes to monitor their entry and exit.
2. Smart Locks Are Accessible Via Smartphones
Virtual keys give easy access to vacation rental guests, visiting relatives and aging family members. Smart locks are a great addition to other devices you control remotely. From smart lights and smart appliances to your home entry system, smart devices are the way of the future — stay ahead of the curve.
Which leads us to . . .
3. Simplify Home Security
Smart keys let you grant access to multiple people and track who comes in and out of your home any time of the day or night. By downloading the Turbolock app, you can remotely monitor and control your home's smart locks and assign new passcodes when needed.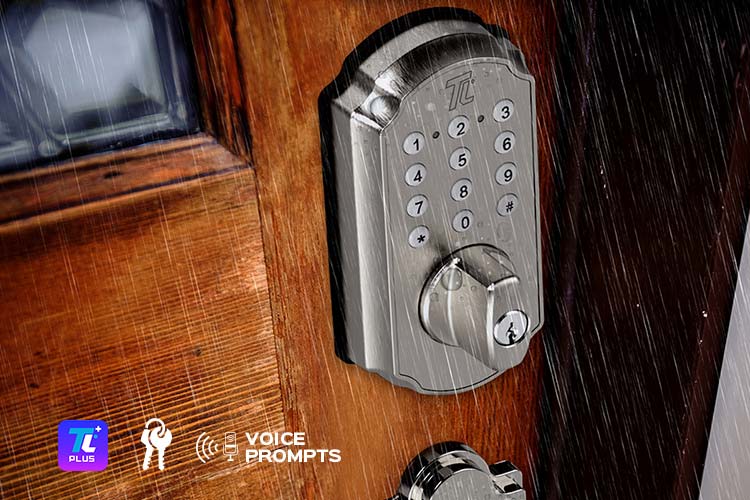 4. Boost Your Connectivity
Integrate your smart locks into your home security system by downloading the app onto your in-home or mobile device. If family members or house guests forget to lock the door after exiting, smart locks can activate the locking mechanism! That's a relief when you're halfway to Starbucks and wonder if you forget to lock the front door — again! It could also help you stay out of the doghouse with your spouse.
5. So Many Options to Lock and Unlock Your Property!
If you have a guest, tenant or house cleaner who isn't comfortable with technology, smart deadbolts with a traditional locking mechanism give you an additional way to open and secure the lock. If you don't want to rely on Bluetooth and Wi-Fi, choose a keypad smart lock that stores the passcode directly on the locking mechanism, itself.
Trust us, with a million different passcode possibilities, the chances of someone guessing your code — or even brute-force hacking it — is next to impossible. And Turbolock digital keypad locks all have a passcode disguise feature, which helps add privacy to your keyless security.
6. Stylish Designs to Choose From
Whether you want a simple design such as a smart doorknob or a futuristic one such as keyless entry smart locks, you have a wide range of styles to choose from among Turbolock products. Choose a model that looks like a traditional deadbolt or whatever else appeals to your personal aesthetics.
7. Forget the Hideaway Key
Are you still putting the spare key under the flowerpot on your front porch? You know, where everyone looks first? Throw away the hideaway key and move into the 21st century with keyless smart locks from Turbolock.
The next time your son forgets his key and can't get into the house because you're running errands, just send him a passcode and go about your business.
8. Remote Security Rocks
If you own rental properties or Airbnb homes or manage them for clients, this is your chance to get a life. Install smart locks and say goodbye to the dreadful midnight phone call because a guest is locked out.
Smart locks are the way to go when you are:
On vacation yourself
At work
Having dinner with your family
Running errands
Don't want to deal with forgetful guest
9. Manage Your Home or Investment Property from Across the Country
Smart locks offer you the ability to check on your property without being there. It also simplifies the check-in and check-out process for guests and property managers. So long as you have a data connection, you'll be able to check lock history, share and revoke eKeys and much more.
10. All the Above
You've just read nine benefits of smart locks — what are you waiting for? You can choose from subtle designs that mimic traditional deadbolts or go with a futuristic design that would make George Jetson jealous. If you're nervous about power outages or internet disruptions, add a keypad without Bluetooth on at least one of the entryways.
Thanks to smart locks, life just got a little simpler.