Congratulations on your new home!  You might feel all the hard work went into finding a house and packing, but it's not over just yet.  There are a lot of things to double check and buy for a new house, and it's easy to miss something.  But don't stress out!  Whether this is your first house or you're a moving pro, our move-in checklist will help you stay organized and minimize headaches. 
Before Moving into Your New Home 
Schedule Movers 
You should schedule a moving company as soon as you know your move-in date.  About 70% of all moves happen between Memorial Day and Labor Day, and professional moving companies book up fast.
Here are some tips on choosing the right mover: 
Talk to family and friends for recommendations on moving companies.  Check online reviews such as Google and Yelp to see what other customers have to say.

 

Find out the mover's policy for damaged and lost items.  Moving companies include limited liability insurance, but it's capped at a small dollar amount.  You can pay a bit extra for full-value protection if you're moving valuable antiques, artwork, computer equipment, etc. 

 
Make a list of your most important items and which boxes they are in.  You'll want to take photos or videos of fragile and valuable items just in case. If possible, take jewelry, family photos, and important documents with you. 



Update Your Records  
Paperwork is annoying, but it's easy to forget about.  Sure, you'll remember to activate your utilities, internet, and TV services, but there are non-obvious things that might fall through the cracks. 
Update the billing and mailing address on your credit card bills, bank, and insurance.  Do you shop online?  Remember to change that too!  One-click ordering on Walmart or Amazon is super convenient, but it's really easy to send a package to your old address by mistake.

 
File a change of address form for your mail.  You can either fill out a form at your post office, or file online at

https://moversguide.usps.com/

  There is a $1.10 fee for the online service, though it's the most convenient option for most people.

 

You'll also want to get an IRS Change of Address form, Form 8822, by calling (800) 829-1040 or visiting the IRS website at

https://www.irs.gov/faqs/irs-procedures/address-changes

. While you're at it, grab IRS tax form 3903 so you can deduct moving expenses.

 

If you're changing medical providers, check with your insurance company to find doctors and dentists in the area.   If you need a specialist, maybe your current doctor can give you a referral? They also might need to transfer records to the new doctor's office.

 

If you have kids, you've probably already registered them for school.  But if you're moving over the summer, it might slip your mind.  Notify old and new schools and arrange for them to transfer school records if they're needed.



Make a Moving Essentials Kit 
Preparing a "survival kit" will help make moving day a breeze.  Pack an overnight bag like you are going on vacation (but no Hawaiian shirts unless your spouse gives you permission!) Make a shower kit with shampoo, toothbrushes, toothpaste, and towels.  You'll also want easy access to things you'll want right away, like toilet paper, dishes, and trash bags.  In the rush to get people things packed, it's easy to forget the dog leash, pet food, or cat litter. 
You'll want some basic tools like a screwdriver if you need to re-assemble furniture.  Pack your sheets and blankets last, in a box you can unpack right away.  You'll thank yourself at the end of an exhausting move-in day when you can crash on a clean bed. 
Oh, and don't forget your cell phone charger!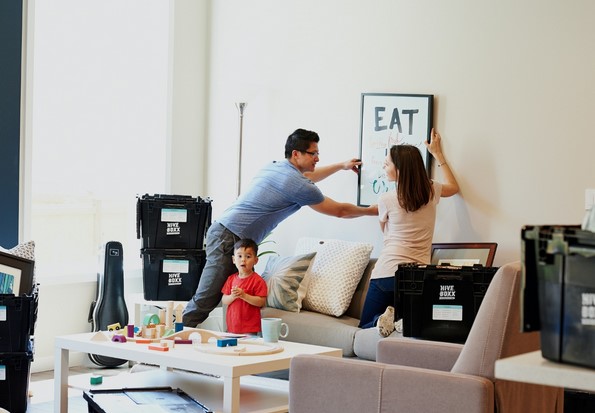 Post-Move Essentials 
Here comes the fun part!  You're moved in and want to kick back, relax, and start enjoying your new home.  But there are a couple more things to check off first. 
Deep Clean 
Get your home sparkling clean while it's still empty. Deep-clean the grunge out of every nook and cranny- the window sills, the floorboards, the vents. Scrub the carpets or hardwood floors before your furniture and clutter get in the way.  Wipe down the refrigerator with baking soda and water before you fully stock it with food. 
Locate the Utility Shut-offs 
Be prepared!  Know where everything is in case of a plumbing leak or electrical emergency.  The shut-off valves are often hidden in dark, creepy places you won't visit often, like a basement, crawlspace, or a weird corner of the garage.  Every once in a while, you may need to reset a circuit breaker (try running a microwave, desktop computer, and a portable air conditioner in the same room at the same time!)  And if there's a power outage, you don't want to stumble through the dark to find the electrical panel. 
Change Your Locks 
Who knows what the previous residents did with their keys? It's simple to install new locks for your peace of mind.  This is also a great opportunity to upgrade to keypad locks, or locks with convenient smart home features.  There are keyless options, Bluetooth locks that open with a tap from your keychain or phone, Wi-Fi locks that let you keep an eye on things with an app, locks that use your fingerprint, and more. 
Which Lock is Right for Me? 
Lock Installation Guides
Making your home burglar-proof is easy! 

Here are some tips and tricks we've put together to make the installation easy and headache-free.

 

How to install a door lock (this is being worked on: we can add a link when it's finished)

 

How to install a deadbolt (this is being worked on: we can add a link when it's finished)

 
  Additional Safety Checkups 
Home safety isn't just protection from burglars.  There are lots of other hazards to look out for, and now is the best time to nip them in the bud.  You'll want to change out smoke detectors and fire extinguishers, inspect for leaky pipes and bad wiring, look for trip-and-fall obstacles in your new yard, and more.  In the rush to move in you might have forgotten to buy a first aid kit, save your new doctor's contact information on your phone, or find the best route to the local hospital. But we're happy to help!  We've put together an in-depth list of tips and tricks at:

 
Conclusion 
Congrats again on your new home! Now that the details are sorted, pop a cork, crack a beer, and celebrate.  We hope our moving checklist helped you keep from getting too overwhelmed.  Thanks for reading, and welcome to the TURBOLOCK family!