The convenience that a smart lock brings to your life is undeniable. Not having to worry about losing your keys or locking yourself out of your home brings a sense of relief to most people. But with so much misinformation out there, you may still be having reservations about whether to take the plunge and embrace technology. Luckily, help is at hand as we take a look at six smart lock myths that you definitely should ignore!
Smart Locks Are Too Technical
Technology can be scary. If you've ever asked, "What if technology is smarter than me??" you're not alone. But this is one smart lock myth we can definitely bust. Smart locks are designed to be easy to install and even easier to use.
Take the Turbolock TL115 smart deadbolt as an example. Our high-security smart lock comes with all the tools you need to fit it to a standard door in just a few minutes and with virtually no fuss. Set up is quick and easy, and you'll soon be unlocking your door with your phone, the keypad or with a physical key.
If the Power's Out, I'll Be Locked Out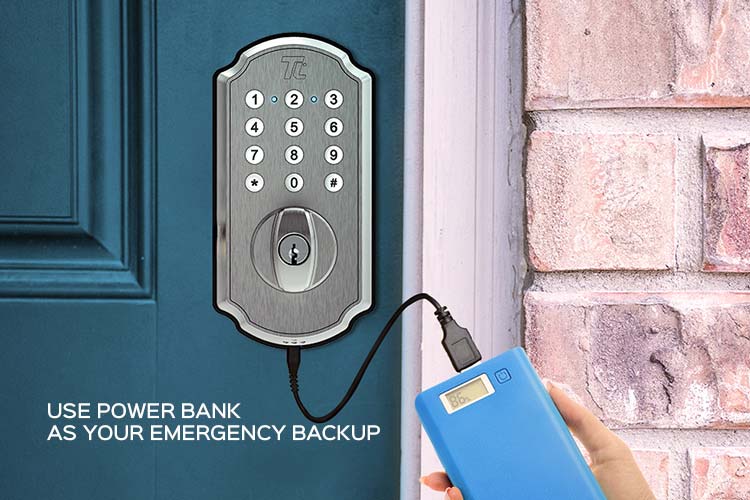 There's no need to panic if the power goes out. Smart locks are battery-operated, so they'll continue to function even when the rest of your home is in darkness. The batteries we use in Turbolock's range of smart locks will give you approximately a year of daily use. And just in case your lock runs out of power before you get round to changing the battery, many of them provide an emergency micro-USB port that can be used to provide temporary power via a battery bank or a phone charger.
My Code Can Be Guessed from the Keypad
We've all seen it in the movies. James Bond wants to access the secret door in the basement, but it has a keypad lock. No problem. He simply looks at which keys are the most worn down and works out the code. Just remember, this is a movie scenario! In reality, smart locks are made using durable materials that won't wear. We use a commercial-grade zinc-alloy to craft our smart locks, which is highly durable and can even withstand extreme temperatures and weather conditions.
But more importantly, every Turbolock electronic lock has our unique Passcode Disguise feature, which lets you mask your real passcode and add extra digits. (Everyone knows it's harder to memorize 12-16 digits than it is 6-8!) And if there's a security lockout feature that prevents brute-force passcode attacks from succeeding.
Smart Locks Can Be Easily Hacked
The growing fear about technology is how everything in the home is now connected. Virtual assistants, gaming consoles, lighting, mobile devices and now smart locks all link together to make your life easier. It's true, this could indeed become a target for hackers. However, as long as you're using a secured home Wi-Fi network with WPA/WPA2 encryption and strong passwords, your system is virtually impossible to hack.
Our current catalog doesn't rely on Wi-Fi. Instead, our smart locks are Bluetooth®-enabled, which requires proximity to engage with the lock. Of course, you can still share passcodes, manage authorized users, and check passcode history from anywhere with a data connection. But if you've bought one of our locks with TURBOLOCK PLUS app connectivity (e.g., TL111 PRO, TL115 or TL117), no one would be able to remotely hack into the lock and gain entry access.
Traditional Locks Are More Reliable Than Smart Locks
Have you ever lost your keys or stepped out of the front door to pick up a newspaper only to have the door slam behind you? With these being real scenarios associated with traditional door locks, how can smart locks be less reliable?
You can open your door with a smartphone, and you can also pre-program a Turbolock smart lock with 10 different keypad passcodes so everyone in the family can use a code they'll remember. And our smart locks come with physical keys. So, if your phone runs out of battery and you can't remember your passcode, you simply use a key and open your door the traditional way.
Only People With Big Houses Use Smart Locks
When smart locks first appeared on the market, it was often just the rich and famous who rushed out to buy the latest gadget. But why should it only be those with big houses who care about security? Everyone should take securing their property seriously. Whether it's your home, your bike or your car, a smart lock is the answer to your security worries.
The technology may have improved, but smart locks are now more affordable than ever. And, if for some reason you're not 100% satisfied with the smart lock you purchase from Turbolock, we offer a 30-day money-back guarantee.
So, forget about those smart lock myths you've read about online. Whatever you want to keep secure, Turbolock has you covered with our full range of smart locks.