As an AirBnB owner or a property manager, you try to put your guests first. You want them to enjoy their visit and, hopefully, leave great reviews. And convenience —  like the keyless convenience afforded by Turbolock smart deadbolts, for example — is one way you can get great reviews.  After all, what happens when the renters have misplaced their keys or locked themselves out of the rental twice in one week? You may be miles away and unable to get to the property in a timely fashion. And when you get that frantic 3 a.m. phone call, finding a late-night locksmith to help your renters might be next to impossible. And who'll pay for the locksmith? Sure, you can charge for every new key request, but that often causes hurt feelings.
Instead, rely on Turbolock smart locks for keyless entry that tenants will appreciate — and you will too when you get a frantic call at 3 a.m.
If you manage rental properties or host AirBnB vacation rentals, you can benefit from Turbolock smart locks, which add flexibility, improve security and enable automation of your rental homes.
Benefits of Turbolock Smart Keys for Short-Term Rentals
Simplify guest check-in and checkout with smart locks such as the TL115, a Bluetooth-enable smart key that gives you remote control of your property, letting you monitor entry and deactivate codes after guests leave.
With a digital keyless lock, you can program up to 10 passcodes at once. Worried about AirBnB guests forgetting the passcode? It only takes a second to text it to them.
Another useful feature, prized by anyone that's ever wanted to be a secret agent, is the Passcode Disguise. Help secure your property and protect guests with a smart lock that recognizes the passcode — even if you type an extra 12 digits into the keypad before or after the real code. Example: If 080808 is the passcode, a Turbolock smart lock will engage if you put in 123080808987, 26080808765 or any other variation. So long as the proper passcode sequence is entered, it's recognized as the correct code.
Why is this important? Because it's a lot harder to remember 12-16 digits than it is a 6-digit code. So even if the renter inputs the code in front of someone, that someone is less likely to remember it. It's extra security for your security!
No-Hassle Installation & Setup
When you install a Turbolock keyless lock like the TL117 Digital Smartbolt, it comes with all the hardware needed to add a smart lock to doors up to 2.215 inches thick. That includes the latch and deadbolt, so you can match up your hardware for aesthetic purposes. Installation is easy and we have plenty of installation videos to help you out.
If you rely on a property manager or employee to set up the lock, they won't need a Harvard degree to figure it out. Voice prompts guide you through the process as easily as learning the latest cheats for your favorite video game.
How the Magic Works
Mechanically, Turbolock smart locks work the same way as standard locks. However, they "magically" use an electrical signal to open the door rather than a key. They work like key fobs, using secure, encrypted data to activate the unlocking mechanism over Bluetooth.
You can even program the lock using your phone and share unlimited eKeys through the Turbolock Plus app, available for Android and iOS. Simply have the guest download the app and register for an account. Once they do that, you can send and schedule eKeys, reset passcodes and, when their stay is done, revoke access. From the app, you'll be able to monitor the passcode and know in an instant which passcode is still active and which needs to be deleted.
Smart Knob-Style Door Locks
If it seems like gadgets and accessories are getting smarter all the time, it's because they are. Even the doorknobs are smarter these days. Homeowners and property managers looking for an elegant solution to keyless entry on their rentals can choose the TL 111 Digital Door Knob or TL111 Pro Smart Door Knob with App, both of which has the keypad right on the doorknob, simplifying installation and functionality.
RV and Bike Rental Solutions
If you rent out an RV or bicycles, smart locks can help you streamline your check-in and checkout processes considerably. RV smart locks secure your camper when it's not in use and make it easy to change the code when someone returns it at the end of a cross-country trip. It also comes with multiple key fobs that you can give to your guests, keeping one for yourself for emergency purposes.
Smart bike locks allow renters to secure the bicycle without carrying around a bulky key — an elegant solution for everyone.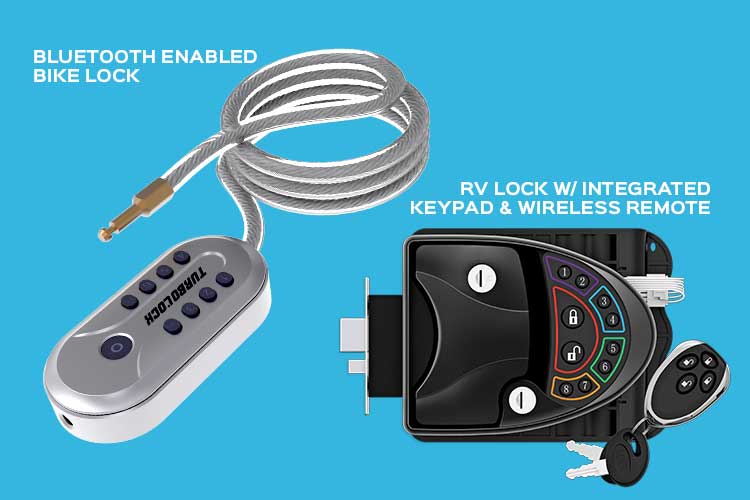 Browse Turbolock smart locks and other products to secure your AirBnB or short-term rentals without the usual hassle of keys and emergency lockouts. Your guests are on vacation, so why not make your own life easier by streamlining your owned or managed vacation property.