Smart locks give homeowners a level of convenience, flexibility and control unobtainable with standard door locks. With the right lock, the time and financial expenses caused by lost and misplaced keys can be a thing of the past. Ideally, your smart lock will be stylish, well-built, secure and offer multiple options for locking and unlocking. Bonus points if you can install it yourself.
How to Buy a Smart Lock Like a Pro
Once you've familiarized yourself with the functions that can affect a smart lock's security and usability, it's easy to move forward without the concern that your neighbor's mischievous kid, will somehow Ocean's 11 himself into your sanctuary.
To guarantee that you get the best lock for your needs, consider these six things.
1. Aesthetics
A lock's style is usually the first thing most people notice, and it often influences our choices subconsciously. Consider where your lock will be placed and its surrounding decor. Depending on your home, you might go for a highly stylized lock with brushed stainless-steel handles. Or maybe something with a more subtle, inconspicuous appearance? Before falling in love with a particular style, make sure you're looking at the locks most compatible with your door. With locks more so than other things, size really does matter.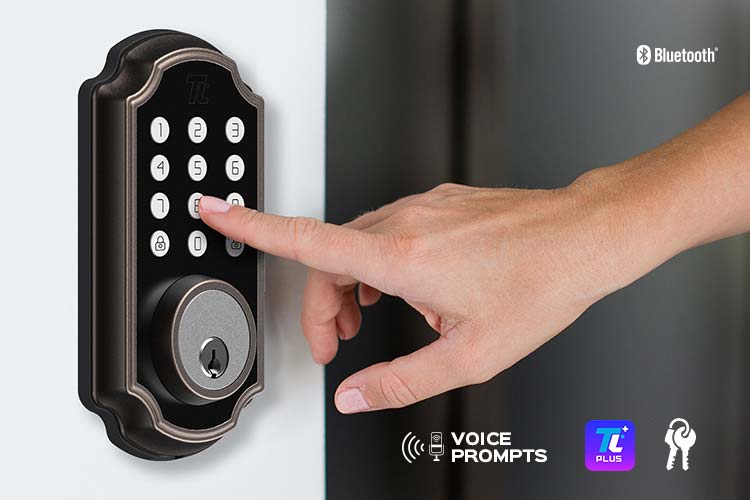 2. Flexibility
Having multiple ways to open a door is one of the biggest smart lock benefits. A keypad enables you to unlock the door if your phone is dead, and a Bluetooth-enabled smart lock ensures you can still get in your home if your Wi-Fi is down.
Whether you choose a lock that can be accessed by voice from 3 feet away or through your phone from halfway around the world, the more ways you can lock and unlock your door, the more freedom your smart lock provides.
3. Security
The ideal smart lock will have solid security for its app and wireless connectivity methods. For keypad smart locks, it would also be wise to choose an option that offers protection against the most nefarious and grave infiltration technique known in spycraft — prying eyes.
A lock such as the Turbolock TL115 lets you avoid compromising your access code by allowing you to input extra digits at the beginning or the end of the code. This feature acts as a Passcode Disguise, obscuring the true code from anyone looking over your shoulder. (After all, 12-16 digits is a lot harder to memorize than 6-8!)
4. Durability
Think about where the lock will be installed. Consider the elements it will be exposed to and how rigidly constructed it needs to be to withstand them. A lock made from a strong, resilient material such as stainless steel will satisfy most homeowners' requirements.
If you're using a keypad digital or smart lock, like our TL111 Keyless Digital Doorknob, think about how many keypresses the keypad will have to endure every day. You'll want to make sure these individual keyed numbers won't fade away or rub/scratch off.  And in today's COVID-19 world, being able to stand up to regular disinfection without staining and deterioration is definitely a plus!
How easily a lock can be installed and managed is often overlooked. Smart locks compatible with standard doors are common. But if your door doesn't adhere to the usual thickness or it has an unusual lock placement, you'll want to pay closer attention.
Is there an app involved? Does it use Wi-Fi, Bluetooth® or a combination of both? Does it rely on proximity to engage with the lock, or can you do so remotely? Ease of use becomes even more important when you're talking about app control. An app should be easily accessible with simple, intuitive navigation.
Smart Tip: Apps aren't for everyone! If you feel as though the benefit offered by app-enabled smart locks are a bit more than they need, but standard locks are insufficient, a digital deadbolt like the TL114 or the TL116 may be exactly what the doctor ordered. 
Also, don't forget about the batteries. Being able to easily access a lock's battery compartment is especially important if its battery life is on the short side. If changing your lock's batteries is a pain and you have to do it frequently, it's likely you'll avoid it, essentially negating the purpose of installing a smart lock altogether. A long-lasting battery is good, but a backup battery is even better.
6. Warranty
You hope you never need it. But you'll be glad to have it if ever you do. A manufacturer's willingness to eat expenses related to repairing and replacing its product shows how confident it is in what it's selling. Look for a smart lock with at least a six-month warranty. But a one-year limited warranty is preferred.
When you know what to look for, choosing a smart lock to upgrade your home's security can be a breeze. While safety is the priority, modern technology provides homeowners with numerous attractive and affordable options to take their security to the next level.